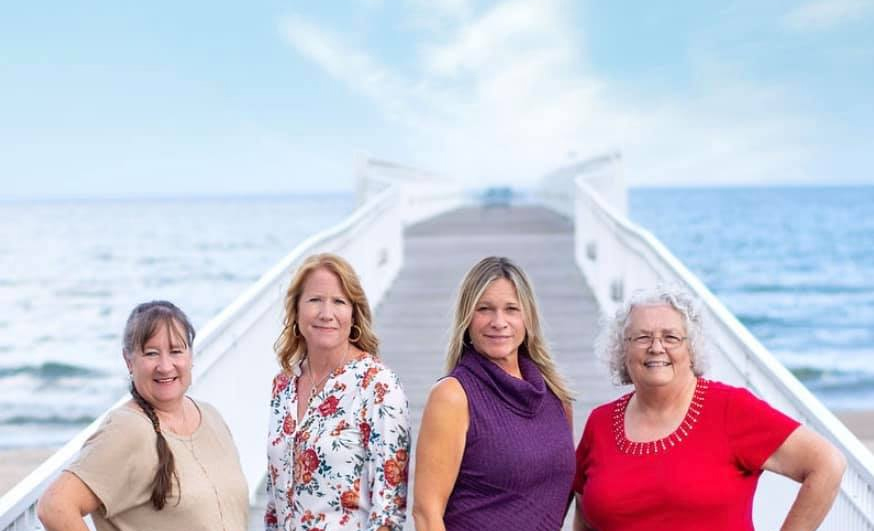 Our team of experienced real estate professionals are available to help you sell your home! Our contact information and bios are located below!
Imse Ockey came to Oscoda, Michigan in 1976 when her father was stationed here at Wurtsmith A.F.B.. Imse grew up in the Oscoda community and graduated from Oscoda Area High School. She graduated from Michigan State University in 1988 with a Major in Merchandising Management and a Minor in Marketing. Imse started her buying career as a Store Buyer with the JC Penney Company out of Troy/Detroit, MI.  From there, Imse was promoted and transferred to Dallas, Tx. as a Corporate Buyer. Imse's career as a Buyer opened the doors for an opportunity to work for the Wal-Mart Corporation at their home offices in Bentonville, Arkansas. Homesick for Michigan, and finally back home to Oscoda in 2008, Imse chose to get out of the rat race of Corporate America and raise her family back here in Oscoda. Imse owns a "Lake Cottage" on Van Ettan Lake. She has two boys, Ethan who attends the University of Michigan, and Axel who is currently attending Oscoda High School, and two Chihuahuas, Lucy and Bruno.
Imse is the Associate Broker/Owner of Sunrise Realty of Oscoda, Inc. Imse's background and knowledge as a Corporate Buyer/Negotiator enabled her to come back to Oscoda with a fresh and natural perspective to find you the home of your dreams, or to list and sell your current property/home!
Imse is a Million Dollar Seller!
Visit my Trulia Link as well: https://www.zillow.com/myzillow/Profile.ht
Rebecca has over 20 years selling all types of property in Northeast Michigan. Closing the challenging deals is her specialty. Decades working in a variety of service industries give her that needed edge to get it done. Strong suits are: creativity, attention to detail and the ability to always think outside the box. Rebecca is honest and trustworthy. She is an critical member of The Sunrise Realty Team. Her straight forward, caring nature puts buyers and sellers at ease in difficult situations. Rebecca believes by educating her clients they will be better able to make the decision that is right for them. Contact her anytime for your private consultation.
Connie Cleary was born and raised in Oscoda Michigan. Connie graduated from Oscoda High School then went on to obtain a Bachelor Degree from the University of Michigan. Connie is trustworthy, considerate, attentive and has a desire to find you the perfect home. Connie can also sell your existing home and has experience coordinating Estate sales. Sunrise Realty of Oscoda agents work as a team and will always be present when showing your home.
Connie is a member of the Oscoda/AuSable Chamber of Commerce, volunteers for the Oscoda Beautification Committee, officiates for the high school and age group swim programs and has been in the housing industry for many years. Connie has a wonderful family with an amazing husband, talented daughter, loving parents, twin sister, brother in-law and slightly older sister whom all live in Oscoda. She enjoys golfing at our many beautiful course and laying on our golden sandy beaches. In the winter you will find her snowmobiling on our many groomed snowmobile trails or enjoying a good movie by the toasty fireplace.
From the first phone call all the way to closing she will handle every detail of the transaction.
Hello! HOME SELLERS ~ My 20+ years of MI licensed real estate sales experience and consistent "Multi-Million Dollar Sales Producer" status with the highly-respected Sunrise Realty of Oscoda and our many marketing resources will be used to your full advantage. Hire me to guide you through the sea of details of your home sale and make the process a "breeze"!
Greetings! HOME BUYERS ~ Let me help you find your dream home or cottage in the Oscoda area and other friendly communities located on the sandy shores of Lake Huron on Northeast Michigan's "Sunrise Side!" I specialize in waterfront homes and cottages on all-sports VanEttan Lake and Cedar Lake, as well as any type of Lake Huron residential property. To your advantage, I am also considered an expert on all styles of homes in the popular "Villages of Oscoda" residential complex on the former WAFB. 
Oscoda has been my beloved home for over 20 years. It was my life dream to move "Up North" after my husband and I raised our sons downstate. Let me show you the many benefits of living or vacationing within this area's beautiful National Forests with abundant nature, the world-class golf courses, great fishing, canoeing and boating available to you on the mighty AuSable River and inland lakes, area winter sports, and the beautiful natural sugar-sand beaches of awesome Lake Huron!  Our small, laid-back communities are full of friendly people ready to share our abundant recreational opportunities, free concerts, year-round festivals and celebrations with you!
Whether you are thinking of Selling or Buying real estate on the "Sunrise Side", please call or text my Cell 989-305-0437 or email penny.homes@yahoo.com today!
My love of this area's pristine beaches, abundant hiking trails and clean fresh air has drawn me repeatedly to the Sunrise Side. I am now here to stay – in my perfect vacation spot! I can help you to do the same.
I have a keen interest in all things homes…creating… remodeling…exploring possibilities…locating the perfect spot to spend a life. My background is varied – purchasing, office management, estimating, sales – many aspects relating to homes.
Let me assist you in finding your dream home or getaway cottage, or in selling your special someplace to an eager buyer.